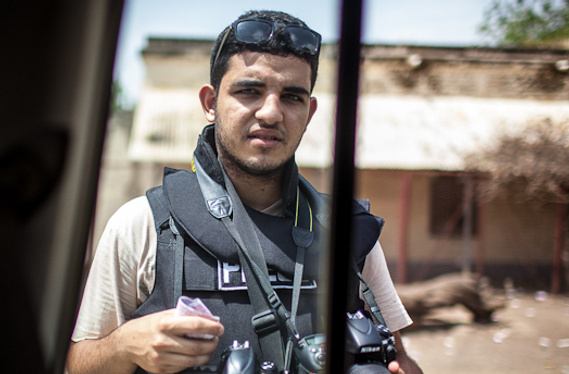 Mohammed Elshamy is an award-winning independent photojournalist based between Lagos and New York and the recipient of the Chris Hondros Fund award.
Mohammed Elshamy studied at the International Center of Photography (ICP) School's Documentary and Visual Journalism program as the first-ever recipient of the Malú Alvarez International Scholarship full-tuition scholarship.
Since 2016, Mohammed Elshamy has worked as a staff photographer for Anadolu Agency based in New York. Mohammed Elshamy's coverage has included the United Nations General Assembly meetings, Muslims in America, Elections, protests opposing the Muslim travel ban, a white supremacist militia in Georgia, as well as the NBA, and the US OPEN 2017.
In 2015, Mohammed Elshamy covered the refugee crisis in Europe and social and economic issues in Darfur, Sudan. In 2014, Mohammed Elshamy reported on the armed rebellion and escalating instability in South Sudan and he also documented the aftermath of Boko Haram attacks in northern Nigeria, as well as following social life and news and documenting Makoko floating slum, a home to thousands in Lagos.
After moving from Egypt to West Africa in 2014, Mohammed Elshamy covered the outbreak of Ebola epidemic in Sierra Leone and Liberia. Mohammed Elshamy was one of very few journalists to reach remote areas and villages, where he captured the huge impact of the epidemic on the health system and on individual lives.
While living in Egypt, Mohammed Elshamy documented street clashes, elections, business, and the 2013 coup d'état.
Mohammed Elshamy's work has been featured across international press outlets, including Time Magazine, The Guardian, CNN, EL PAÍS, Le Figaro, Wired Magazine, Al Jazeera, Businessweek, The Financial Times, Amnesty USA, NBC, The Huffington Post and Instagram.
Awards and Accolades
In 2011, Mohammed Elshamy became the youngest ever recipient of the Egyptian Press Award, at the age of 17. In 2014 Mohammed Elshamy was selected for the prestigious Magnum Foundation Human Rights Fellowship in New York University. Mohammed was also featured on the New York Times' Lens Blog Turning Points Series and was selected to attend the New York Portfolio Review twice (2015/17) and The Eddie Adams Workshop in New York City in 2015 where he received the Chris Hondros Fund Award in 2015.
Mohammed Elshamy's photography has been recognized in a feature showcasing his work and relating his life story by The Instagram Community team on #WhereIComeFrom series to Instagram's 225 million followers.
Mohammed Elshamy can be reached at elshamy.me@gmail.com or +1-917-715-0298
"Mohammed Elshamy is a talented and dedicated photojournalist with a passion for not only covering major events but for telling the story of the human condition." Ed Kashi of VII Agency
Photo Credit: Andrei Pungovschi